Zooming in certain sites is often needed, especially by people with various vision problems. While there are plenty of programs/browser plugins built to help you zoom in a certain page, and most browsers also have zooming capabilities right out of the box, implementing area zoom features to your page is a very good idea, and AnythingZoomer can help you accomplish this task with ease.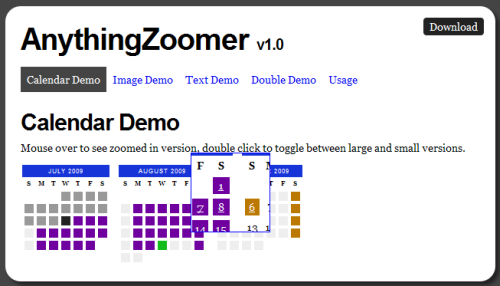 AnythingZoomer is nothing more but a jQuery plugin that allows you to get a zoomed in look of any small area in a page, no matter if we're talking about an image, text, or a table. Obviously, we're talking about a free piece of code that requires the jQuery Framework.
How does it work? Nothing easier – the small, large, and zoomed in areas are easy to define via CSS, but it won't just work without doing that, for example by cloning content.
This is it, folks, but if you have any interesting information about AnythingZoomer, don't hesitate to drop your comments below, all right?
Compatibility: any major browser with JavaScript enabled
Get more stuff like this

in your inbox
Subscribe to our mailing list and get interesting stuff and updates to your email inbox.
Thank you for subscribing.
Something went wrong.