For a long time, I considered website backgrounds to be useless. Looking at sites like Twitter, I can say that I was somehow wrong. Backgrounds can look pretty good, if used wisely, but some designers consider them to be a waste of time, so they drop this part somewhere along the way. Now, what if I would tell you that you can get a cool website background in just a few seconds, without paying a single buck?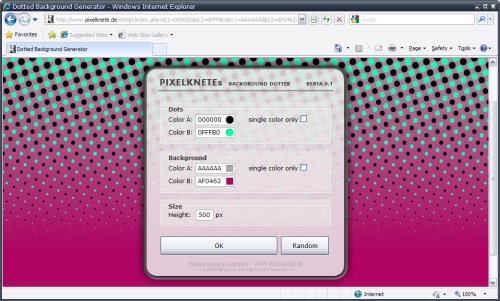 Background Dotter is a very small and easy to use online tool that allows you to create a nice background for your site, producing a 75 pixels wide image that can have a maximum height of 999 pixels. How to use it? It's as easy as 1-2-3, so take a look below!
There are two elements to customize – dots, and background. For each of them, you have to choose one or two colors, enter its hex value (a color picker would have been nice), select the size, and then press OK. Randomizing settings is also a good option. At last, just right click and choose Save Background As. Why? Because…
Compatibility: after playing with Background Dotter for a while, I can conclude that you should use it in Internet Explorer 7/8 and compatible browsers, because they didn't add a Save button yet, and saving the background image can't be done in Safari or Opera; Firefox/Flock can also be used with this tool, but you'll have to click View Background Image first, and then Save Image As, both available as you right click over the page
Get more stuff like this

in your inbox
Subscribe to our mailing list and get interesting stuff and updates to your email inbox.
Thank you for subscribing.
Something went wrong.