I don't know about you, but I know a few developers who aren't exactly crazy about reading news, focusing almost exclusively on their work, so when I told them about Google's Analytics Application Gallery, I just got myself a few instant beers. Now, I'll post this here for eternity, since almost every developer looking for resources should give it a try!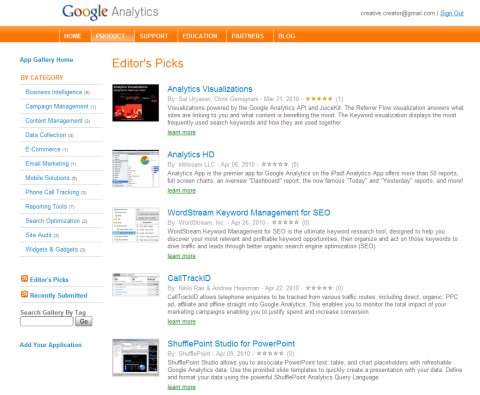 For now, there are only about 20 apps available, but I wouldn't worry about Google's Application Gallery not having enough apps in just a few months… Anyway, what is this all about, after all? Maybe you just missed the big news…
"This gallery contains applications that extend Google Analytics in new and exciting ways. They are solutions that help analysts, marketers, IT teams, and executives get more out of Google Analytics. Start by viewing our featured applications below or by browsing our categories to the left."
The paragraph above was taken right from the official page, so let me just add that, as I write this, there are 5 apps in the "Business Intelligence" category, 6 in "Mobile Solutions" and 7 "Reporting Tools," next to a few other categories having less entries. These being said… I think you should go ahead and click the link above, as I would do if I'd be reading this! 😉
Get more stuff like this

in your inbox
Subscribe to our mailing list and get interesting stuff and updates to your email inbox.
Thank you for subscribing.
Something went wrong.