I am in shock – it seems Facebook has become more popular than Google and porn together!!! I know that this may seem complete bullshit to some of you, but here's the proof – what can you say against that, huh??? Now, it shouldn't come as a surprise that a lot of people are looking for Facebook clone scripts these days, but we won't get that far – LikePortal should be enough for now…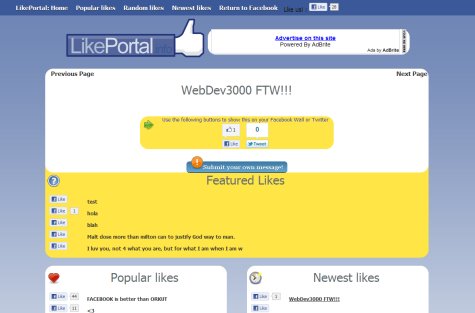 … especially since
LikePortal
has a lot to do with Facebook – after all, its main purpose is to help you create unique likes to share on Facebook, then watch what's happening with them – the amount of people that press those Like buttons, comments… not to mention that
LikePortal
also supports sharing of your content on Twitter too, next to Facebook!
Available as donationware, LikePortal uses MySQL and PHP, coming with support for multiple languages, including Chinese, using it is really easy and – at least theoretically – works best with Firefox, Opera and Chrome, but I have to tell you that I noticed some glitches while browsing it in Opera (the official page of the product is also a demo of the script itself…). Was it only me, or is this a problem everyone has? Feel free to drop a comment below, I would be grateful! That's all, folks! 😉
Get more stuff like this

in your inbox
Subscribe to our mailing list and get interesting stuff and updates to your email inbox.
Thank you for subscribing.
Something went wrong.