I hate programs and sites that give you no info on how to find your way around them. I guess everybody should feel the same, as long as we're not talking about products as easy to use as a screwdriver (anyway, even scredrivers need some instruction book to come with them… never underestimate human stupidity!). Well, today we have a nice knowledge base script right here, especially for those who want to easily provide more useful information to their users…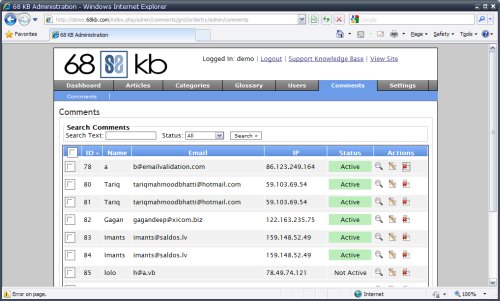 … and its name is 68KB, but it doesn't seem to have anything to do with its size, at least from what I can tell at first sight. If I am wrong, please let me know, but I am sure that they chose this name to match the one of the company behind the product, namely 68 Designs, LLC. Good, now that we know the story behind the naming part, let's take a quick look at the features, shall we?
Being an open source PHP/MySQL-powered script, 68KB offers unlimited categories, SEO-friendly URLs, a glossary system, stats, attachments, comments, and a template system that allows you to easily change the visual theme of the script to make it nicely integrate with any website.
Built with the CodeIgniter framework, 68KB has support for multiple languages and requires PHP 4.3.2 and MySQL 3.23 (or better).
Compatibility: all major browsers, of course! 😉