When I think about hotel reservation forms, I suppose such things can't be available as free source code, since we're not talking about the next door bakery here – hotels should have enough money to put into some expensive website, right? Well… I guess the Internet almost managed to prove me wrong once again, since AJAX Hotel Reservation Form is exactly what I wasn't exactly hoping to see – an excellent piece of (almost) free source code for those working on any kind of Web project involving hotel reservations!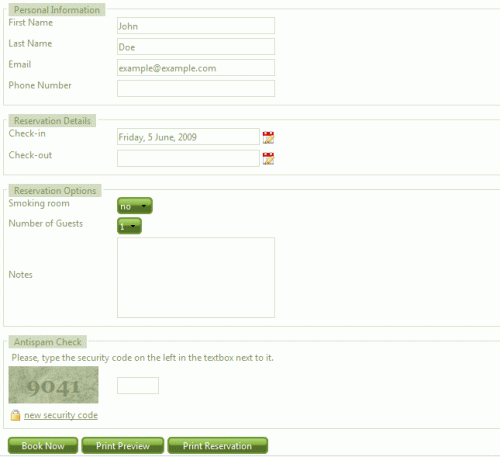 Last week, the second major revision of this script arrived, providing a wide array of features, including the ability to use skins (12 available for now, probably more to come in the future). Unfortunately, this isn't as good as expected, because there's a price that comes with all those 12 skins…
… so let me tell you the truth about the price – to get the whole set of skins, you'll have to purchase the full version of Hotel Reservation Form, and that will make your pockets $50 lighter.
On the other hand, the Lite version comes with 3 skins, and also displays a trial message, but for small sites on a very tight budget… I don't think this can be that bad, don't you think?
At last, a few words about requirements – basically, this needs any kind of PHP capable Web server (Apache, for example), and while it has quite a few dependencies (ButtonReplacement.JS, Web 2.0 AJAX Loading Panel, jquery-1.3.2.js or jquery-1.3.2.min.js, as well as a few others), they are all included in the distribution file.
Compatibility: according to the official product page (see link in the first paragraph), Hotel Reservation Form works with Internet Explorer 6/7/8, Mozilla FireFox 2/3, Opera 9/10 Beta, Google Chrome 1, Safari 3/4 Beta (I checked and it also works with Google Chrome 2, so probably even less popular browsers will work great with it)