To be honest, I love image gallery scripts, but when I want to watch various images on the Web, I like keeping things as simple as possible. When I say "as simple as possible," that means image transitions and Flash- or Java-based image galleries are a no-go, but…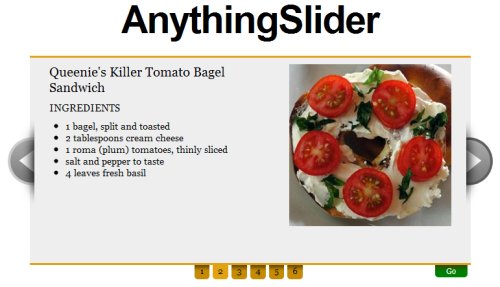 … it all becomes pretty interesting when we look at AnythingSlider, a jQuery plugin created to display not only images, but any kind of HTML content. Before I tell you a few words about the features, just take a look at the demo, all right?
Good… now, here's what AnythingSlider has to offer, in case you didn't check the demo properly: dynamically added navigation tabs, next/previous arrows, custom function for formatting navigation text, autoplay, autoplay pause on hover, as well as hashtagged slides with the advantages you get from this (can link to specific slides or have multiple sliders on a page).
Since it's free to use and looks pretty good, if you think that AnythingSlider can get your job done… go for it! 😉
Compatibility: all major browsers, but only as long as JavaScript is enabled, of course