One of the things I really love about Maxthon is the ability to load two sides side by side. You don't have to be a developer to use this, since content editors and even "normal" Internet users can find themselves pretty often in situations requiring side by side browsing. While having two sites loaded next to each other may be good, what about four of them?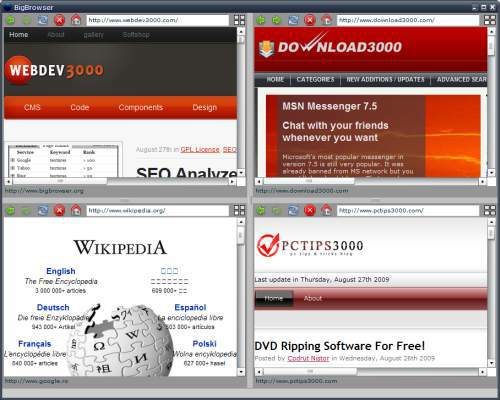 Big Browser is exactly the tool to use to achieve the goal described above, and while the official page claims this is still in a "very very early development state," I think everything works just great considering this… After all, I had no crashes or any strange errors while playing with Big Browser, and the amount of memory used is pretty low (about 26MB with four sites loaded seems cool to me).
The cherry on top of the cake? This tool works on both Macs and Windows PCs, and it's a completely free application. What else can you ask?
Compatiblity: a computer with Adobe AIR in a working state 😉