Friday night sounds really bad to me now. The reason? I feel really drained of ideas, despite the fact there are plenty of things rolling around inside my head, most of them related to the stuff I write about. Well, I guess it may be the fact that I had a week full of things that had nothing in common with my work, but… let's leave that aside and bust a name, shall we?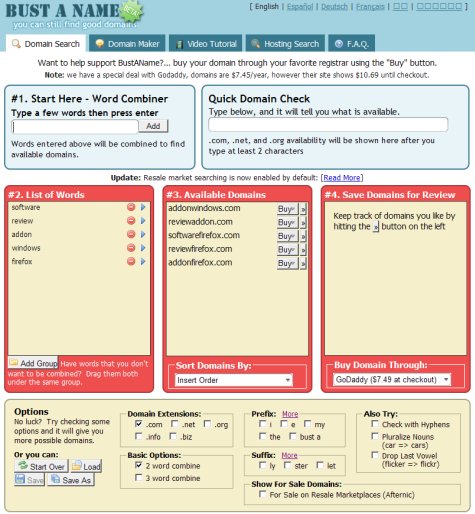 If the name doesn't ring any bells in your head, let me tell you that
BustAName
is a Web-based service that can help you easily find some good domain names by combining a set of keywords you enter, looking for combinations and giving you the free ones found. What some people would appreciate is the possibility to also look for premium domains, but I think that some domains are simply overrated – for example, I searched for Software-Reviews.com some time ago, and that domain was valued at over 2000 bucks. In the end, content is king, trust me!
On the other hand, having a good name for a decent price is also a smart choice, so BustAName is simply awesome – for example, you can check availability of a certain domain on-the-fly, simply by typing a word into the Quick Domain Check field – no captchas to fill, no time to waste – awesome!
At last, if you really want a human mind to forge the domain name you'd kill for, then PickyDomains may be a better idea, although it may also require more time and even some money to be invested. Well, nothing's free, after all… maybe except some weekends, so enjoy the one that begins as I write this, will you? Good luck! 🙂