I don't know about you, but I sometimes have to share various documents with people who are a bit paranoid. In most cases, it's about some pictures from a party, but this also applies to work-related data, and when it comes to sharing something only with a few people, you could go ahead and upload some password-protected archive using RapidShare or a similar service, or…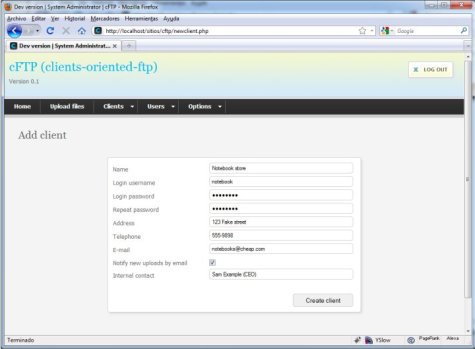 … you could go ahead and grab
cFTP
! With less than 120kb to download,
cFTP
allows you to easily create clients accounts thanks to a very easy to use front end, then you can move on and upload as many files as needed to each account in a matter of minutes. To make everything even more serious, you can add a title and description to each file you upload. Cool enough?
Here's the cherry on top of the cFTP cake: this piece of code comes under the terms of the GPL license, and you only need a server with PHP/MySQL and some free space to get it up and running. Obviously, the amount of free space required depends on your file uploading needs…
Unfortunately, there's no demo for this PHP application to play with, but a bunch of screenshots can be viewed on Facebook (you can find the link on the official page I pointed earlier). That's all, folks!