Here's a quick one today – a new code beautifier that simply provides you the beautified code, without having to install anything on your server. Why install something on your server to beautify code? Take a look at SyntaxHighlighter and you'll get your answer, but I think now we should give Code Beautifier Plus a chance, so here it is…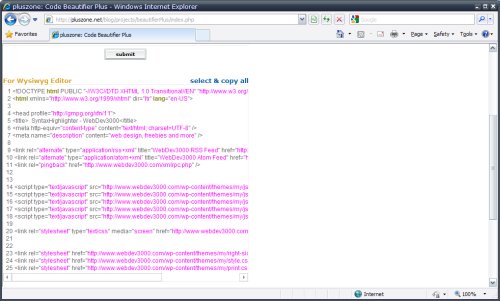 Code Beautifier Plus is nothing more than a handy online tool that can help you make your code look better, and provides you with two ways of getting it ready for being posted on a site – WYSIWYG content, and HTML code.
How does it work? Nothing easier! All you have to do is paste the code into the box waiting for it to arrive, and then choose your options, like outline/bold/linenumber/font/size for the text, as well as the highlighting style (unfortunately, only Actionscript, C# and Java are currently available). Then, press submit and wait for your beautified code to come out. That was pretty easy, don't you agree?
Compatibility: Code Beautifier Plus works with any browser you can throw it at, except those ancient text-based ones, I guess (I only tried it with Internet Explorer, Opera, Firefox, Flock, Google Chrome and Maxthon)