As we all know, and some of us even feel it, the global economy seems to cool down. Unfortunately, for some people, things are really frozen, but at least when it comes to online shops, there's still a pretty solid chance to succeed. Sure, a lot of shops, online and offline, have been going down lately, but this leaves some room to exploit, especially since things will slowly start heating up again pretty soon.
All the above being said, you may think I'll tell you about some shopping cart, but I won't. Why that? Well… I am thinking about people who built their own carts, but maybe forgot or didn't have the time to add some serious user-driven comments capabilities. For them, as well as others who may need to quickly add some user comments, here you go – Commentics!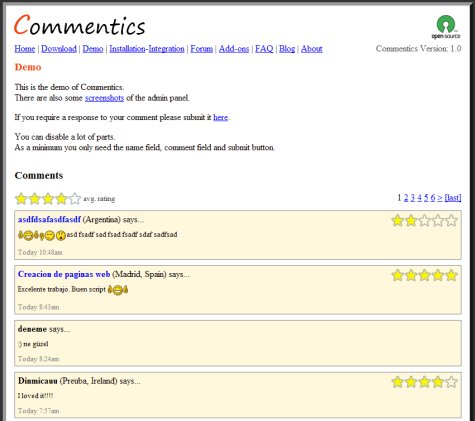 Commentics
has a really inspired name, if you ask me, but this one surely's about the features, and not the name. Completely free to download and use,
Commentics
was built using PHP, and you can take a look at the demo
here
. Its features include captcha spam protection, smilies, star ratings, pagination, email subscription, even a RSS feed, but you'll surely get more than just these!
The backend offers a ban system, drag and drop design, database backup capabilities and more, while this actively developed GPL project should work on all major browsers, even text-based Linux ones, but I wouldn't bet on that. Unfortunately, I have no chance to try that right now, so why don't you boot up your Linux box and load the demo in Links, then come back here with some feedback? Thanks in advance! 😉