Turning a PSD file into a WordPress template can be a really tricky job, and I say this after doing a few PSD slicing jobs, and also knowing people seriously involved into the graphics/Web design field who would do anything but that. Anyway, let's stop complaining about tough Photoshop tasks, because for almost any such thing out there, a plugin/action should be available, and when it's not, you can try to do it yourself. Fortunately, this time I just found a piece of gold…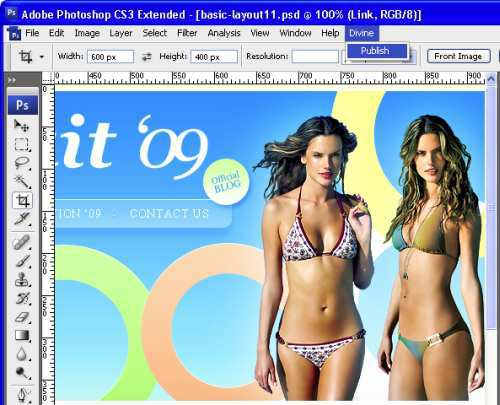 Bikini chicks are surely divine, as long as they aren't exceeding legal weight and age to wear them, and so everything in the image above fits perfectly the topic – we have Adobe Photoshop, we have a WordPress theme with bikini chicks, and we also have the awesome freebie called Divine. Pretty sweet, don't you think?
While working with Divine isn't as easy as 1-2-3, I am sure that professionals will find that turning PSD templates into WordPress themes becomes like a walk in the park with the help of this plugin.
Once you open your PSD template, you need to assign every WordPress element to a certain part of the image, and then set all needed FTP parameters to upload the theme to your WordPress-based site. Since the official project page has details about everything you need to know, including video tutorials, I will close this story right here, right now.
Compatibility: basically, this one should work with at least Photoshop 7.0, and the resulting themes, with any WordPress version… sometimes after some manual tweaking, of course! 😉