These days, most sites try to embrace Web 2.0, or at least allow their users to do more than a few years ago, and uploading files is one of these actions. After all, everyone's bandwidth is at least a few times higher than it was in 2005, for example, and if you are a member of some site… you'll end up uploading something to it, sooner or later!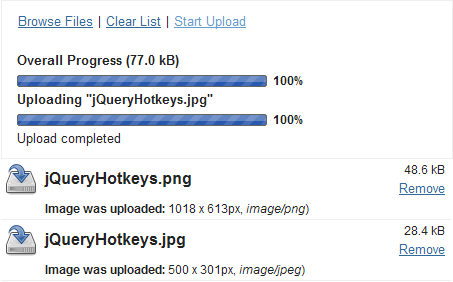 Now, if we look at this from the developer's point of view, there are two things that need to be kept in mind when working on the file upload part of a site: features, and how long it will take for your job to get to the finish line. I guess there's no need to say why you should think about some fancy progress bar and queued upload, right? That's exactly where FancyUpload steps in, of course…
… and we're not talking about a brand new script here, since this one just got a new version number, and a bunch of improvements with that, of course. FancyUpload 3.0 uses MooTools, unleashing its magic with Swiff's help, and requires Adobe Flash 9 or 10 on the client side.
Best part of it all? Obviously, the fact that it's a freebie, but FancyUpload is also highly customizable via CSS and XHTML, and its features should make each and every user of your site more than just happy with the file upload capabilities at hand.
Compatibility: any major browser I usually play with (Internet Explorer, Firefox, Opera, Safari, even the younger Google Chrome), as long as you have Adobe Flash Player installed properly; be sure to remember that it requires MooTools, and take your time to check the demo