These days, the Internet is full of Christmas-related graphics awesomeness, but I must admit I hate placing quantity above quality, so I spent some time looking for the best Christmas patterns for all of you and here's what I came out with…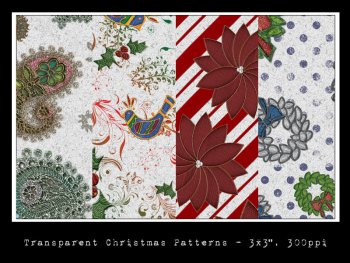 1.
slavetofashion69's
Transparent Christmas Patterns
on deviantart:
"Some handmade transparent Christmas patterns. Made @ 3×3″, 300 ppi – can be used for scrapbooking, making Christmas cards, etc. Fully seamless."
I really love them. Simply great!!!
2. ~flashtuchka's Mr Jack Frost 18 Photoshop Patterns, another one found on deviantart, simply described as "18 PS CS3↑ Patterns imitating hoar rimes. seamless." I am not totally in love with these, but I am crazy about snow/ice patterns, so here you have it!
3. BushArts.com has a really nice collection of no less than 50 Christmas textures – they may not be perfect, but they really make me feel some of that long gone Christmas spirit. Meeeery Christmas, ho-ho-ho!!! Click here. 😉
That's it – better three good ones than plenty of not-so-good ones, right? Meerrrry Christmas!!! 😉