Remember Load Impact? It doesn't really matter if you don't, but if you do, you can forget about it! The reason is today's topic, another free Web-based speed analyzer for your site. As you probably know, it's official – Google is taking speed into account when awarding search rankings, so… you must know where's your site spinning, right?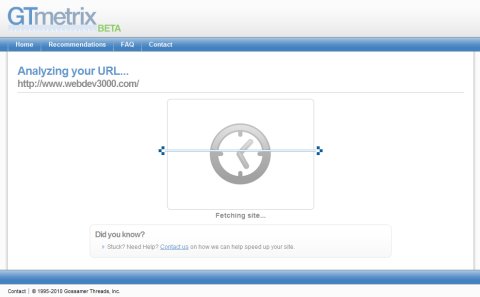 GTMetrix
uses two analyzing engines from the big ones in the industry, namely
Google Page Speed
and
Yahoo YSlow
, providing enough information to know how's your site moving when compared to the average values. All you have to do is enter the name of your site and press the "Go" button, but…
… only after you'll get a free account you'll gain access to all the goodies, including scheduling of daily/weekly/monthly automated checks, reporting capabilities, tests history and more. These being said… I have nothing more to add but the usual compatibility check part.
Comparability: all major browsers, including Chrome, Opera, IE8 and Firefox (please drop a comment below if you face any kind of problems with any Web browser, no matter how exotic it may be)