The way of the future seems clear – online, multi-user apps, with development cycles as short as possible. Of course, that doesn't mean the old ways will disappear, or that standalone desktop applications will see a very abrupt decline, it's only the fact that things like Hemlock are becoming more and more popular with each day… but what is Hemlock, after all?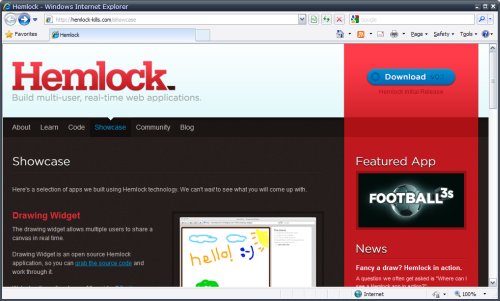 Hemlock, as described by MintDigital, the company behind it, "is an open-source framework that combines the richness of Flash with the scalability of XMPP, facilitating a new class of web applications where multiple users can interact in real time."
These being said, it becomes pretty clear that, with it, you can easily build games, educational tools, workspace collaboration tools, probably even Twitter clones… after all, there's no question about what can be built with Hemlock, but if the thing you're going to work on will become popular or not.
In the end, I think you should take a look at the showcase apps available at this point, my favorite being Football3s. This framework requires Flash, of course, and comes covered by the terms of the MIT license.
Compatibility: any Flash-enabled browser should be fine, as long as you're not using some script/content blocker, in which case you may want to disable it to enjoy Hemlock apps on the client side…