These days, delivering multimedia content gets more and more interesting with each day. I am not thinking about the low prices of HD cameras and the impressive amount of storage offered by most portable drives available these days, because sometimes you don't need to get out and grab your own content. For example, think about various school projects…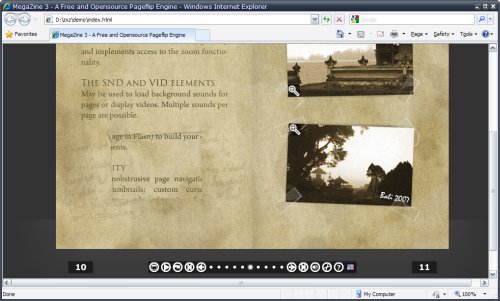 … and no matter what you need to deliver, as long as we're talking about multimedia, MegaZine is a great platform to use. Why am I saying this? Well, here are the ingredients used to forge MegaZine: Flash, ActionScript 3, and a lot of skill. What's let for you?
This is the best part of it all – with MegaZine, all you need to do is add your content and mess with the settings available. The result? Online awesomeness! 😉
MegaZine is easily configured via XML files, and its features list includes a control bar for easier navigation, page caching, GUI tooltips, a very flexible interface, support for audio and video content, excellent image gallery functionality, and many more. Not convinced yet? Well, then I think you should try the demo!
Compatibility: any modern browser that can handle YouTube won't have any problems with MegaZine, so…