When talking about font collections, I have plenty of them. The only problem is that I have to check my CDs and DVDs catalogue to find the locations of those archived font collections. To make things even more interesting, I have at least a dozen archives on different disks, so… Web-based services like myFontbook are clearly better than my old-fashioned approach!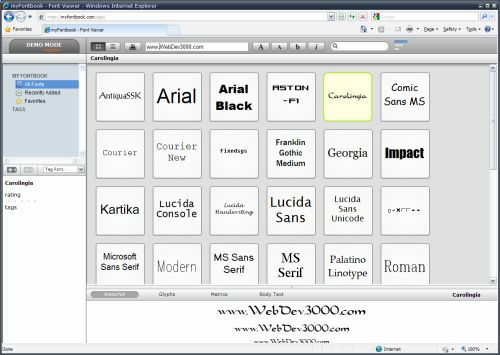 To go straight to the demo mode, just click here. Pretty cool, don't you think? Even more, you can register for a free account, and you will also get some extra features, especially the ability to tag & categorize your fonts and find them easier in the future!
Additional features allow you to display a custom text in the preview area, and you also get a gylphs view pane for quickly scanning characters and symbols. At last, there's also the font metrics view, which shows guides for the text baseline, default kerning, and median height. Sure, you can even print your fonts with a single click, but let's not reveal it all, shall we?
Compatibility: any major browser, but beware – script blockers may cause various problems!