When it comes to MySQL clients, I would usually go with the standalone Windows programs, but it seems all those I used so far end up causing some problems, sooner or later. Sure, it may be just my bad luck, but all I can say is that tools like the one I found today, MyWebSql, seem to be more reliable for me and my hosting servers… so let's take a quick look at this piece of code, maybe you'll also find it useful!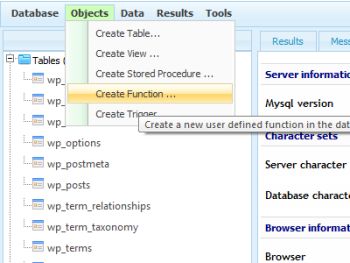 It is my pleasure to let you know that
MyWebSql
is a Web-based, open source MySQL client built using PHP and sporting an Ajaxed interface that allows you to easily control triggers, views, stored procedures and functions. Data from your databases can be exported really easy, and the same thing goes for the query results.
Additional features of MyWebSql include a syntax highlighting rich-text SQL editor, batch file import capabilities, and even multiple themes support. I already love this one, I can tell you! Since you don't have to take my words for granted, I think best thing to do is click here and play with the working demo (you'll also see if MyWebSql is compatible with your browser, on this occasion). That's all, folks, enjoy MyWebSql and may you have a pleasant weekend!