CSS is the  most used style sheet languages. But if you are new in web programming, CSS is not that user friendly as you might expect. But there are a few solotuins for this. The online CSS code generators are perfect tools for beginners and they will really help to design your website as you wanted.
In my opinion, the best online CSS code generator is CSS3.0 Maker. Using CSS3.0 Maker you can create Border Radius, Gradient, CSS Transform, CSS Animation, CSS Transition, RGBA, Text Shadow, Box Shadow, Text Rotation and @Font Face. Another great thing about CSS3.0 Maker is the browser compatibility and mobile compatibility options. This way you can see with what browsers/mobile devices is your CSS code compatible.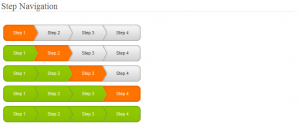 If you want to create only menus using CSS code, you should try Only CSS Menu. The name says all about this online tool. Using Only CSS Menu you can create great horizontal menus, vertical menus, horizontal dropdown menu, step by step navigation, and vista style CSS menu.
Online CSS Editor is not really a code generator. Is more like a CSS dynamic previewer. You can write the code and you can preview the results. Or you can use it to modify a CSS file. From here you can also use CSS Validator. With CSS Validator you can validate your code and you can see the errors in your CSS that can make your page to be displayed incorrectly.