If you think I always look for my topics by browsing similar sites or just rambling all over the Internet, you're wrong. For example, let's look at today's topic – a friend of mine who's a brilliant Web designer sent me the link, I checked it out, I installed the program, played with it for a few minutes, and since I found it really interesting, now I'm sharing it with you… I only hope you're not going to say "Wow, this guy didn't find our about Pencil until now!" and you'll find this article to be useful.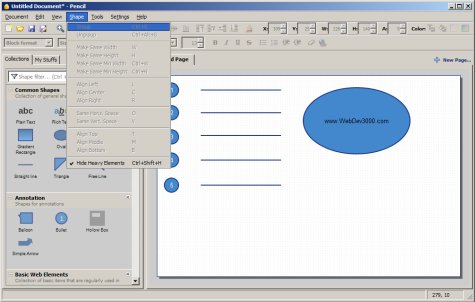 Available as a Firefox addon or a multiplatform standalone applicaton (Windows and Linux versions availble, a Mac OS X build expected to arrive at a later time),
Pencil
"will always be free as it is released under the GPL version 2"
and its main purpose is to help everyone in making diagrams and their daily GUI prototyping tasks.
The features set of this freebie doesn't look bad at all, including a Clipart Browser, object snapping, the ability to install and use custom stencils and templates, support for HTML/PNG/Word/PDF export, as well as many other goodies that I am sure you'll discover by yourselves. After all, the setup package is really small – only 600 KB, if you go with the Firefox plugin, or about 10 MB, for the Windows installer of the standalone Pencil version.
I don't know about you, but I will surely keep this piece of code around. I may not be in need of prototyping GUIs, but it's always good to have a decent diagrams maker at hand – I don't even want to remember the days when Paint was the only thing that I could think of when facing the need to draw some simple diagram… 😉