Sometimes, I am simply amazed by my own ignorance. For example, let's look at today's topic – I've been a member for ages (2 years and 36 weeks, to be more accurate), yet I never wrote about it. Could be the fact that I expected to earn some money out of it? Probably not, because what I earned is more valuable than money, as you will see right away. Well… I guess I should stop asking pointless questions and get to PickyDomains, don't you think?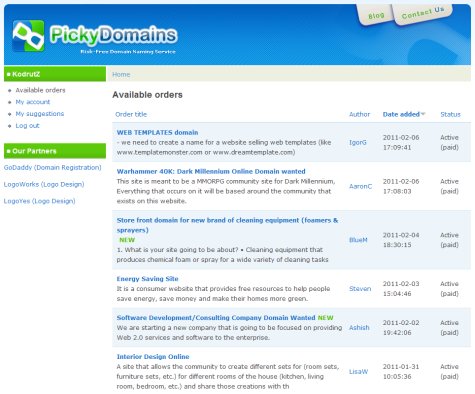 To be honest, I can't remember how I bumped into
PickyDomains
, but I know for sure that it helped me acquire a few great domain names without paying anything. No, no – I won't tell you how to trick the system, I will simply tell you what's the catch with
PickyDomains
and what can be earned by both webmasters and freelancers looking to make a quick and honest buck.
For webmasters, PickyDomains picks up where inspiration and domain name generators fall to their knees, if I can put it this way. All you have to do is get to PickyDomains, enter the details of your project, pay the required fee, then wait for the names to drop – some may be good, some may be bad. If you don't get anything to make you happy, you can just ask for a refund, no questions asked. To be honest, I feel that this is somehow a weak spot of the whole service, since I can give out a great domain name idea, then the webmaster can ask for a refund and buy that domain name anyway. Fortunately, there are also a lot of honest webmasters in the wild, so the freelancer shouldn't bother much about the possibility of being tricked…
… because I think that PickyDomains can be a great source of ideas for the freelancers, too! I only speak of my own experience here – I suggested some names to a webmaster, he didn't like any of them, so in the end I acquired the one that seemed brilliant for myself – NetBlork.com (no site is up there yet, the idea behind it would be to have a blogs network, something like Technorati, maybe). Even more, a bit of mind exercise can't do you harm, so why not mess with PickyDomains and – if you are inspired and a bit lucky – also earn some money in the process ($50 for each domain name picked by the client)?
Considering the above, PickyDomains is a great resource for honest people and I can only hope it stays this way, even if this means it won't ever become too popular and I won't get filthy rich using it. Sometimes, it's better to feel you're doing the right thing instead of making money but, in this case, I think PickyDomains managed to achieve them both. Excellent! 😉