Some say that affiliate marketing is a great way to get others sell your stuff in return of a part of the revenue and, sometimes, this really works for everyone involved. Unfortunately, I noticed that over 90% of the products heavily promoted/sold by third parties using this approach are pure junk, especially those programs that promise to make you rich in no time. On the other hand, nothing can stop you from starting your own affiliate program, especially when you have a product you believe in and a free affiliate system such as Post Affiliate…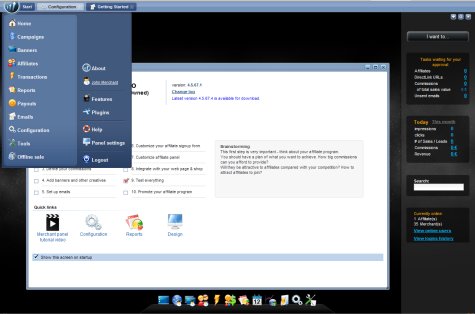 … despite the fact that its free version can only offer a small part of the features available in
Post Affiliate Pro
, there's something even worse to say about it – take a look at this slice of the official mumbo-jumbo now:
"We are sorry, but the old version 1.3 of Post Affiliate Free is no longer available for download. We stopped maintaining this version due to its old tracking technology. If you are searching for a stand-alone affiliate software, please visit the home page of Post Affiliate Pro 4 – this is our state of the art affiliate software."
On the other hand,
Post Affiliate Pro
looks pretty solid and, if you don't need a lot of features, its price may not seem something out of your reach. For details regarding the features available with the Pro editions ready for purchase at this time –
Express/Professional/Ultimate
– please feel free to visit
this page
.
Before I close this article, let me just say that I spared a few minutes to mess with the demo of
Post Affiliate Pro 4
's Merchant Panel (all demos available can be found
here
) and I still have to get back to my former self –
Post Affiliate Pro 4
looks simply mind-blowing! Obviously, you don't have to take this for granted – check it for yourselves and then get back here to tell me if I was right or not wrong, all right? 😛
That's all for today, folks! Bye-bye! 😉