For some people, SEO is nothing more but words and numbers. After all, the Web is all about money… isn't it? No, it's not – at least not for me, so I simply refuse to believe that all people into this huge industry only think about their earnings before anything else, especially when it comes to helping others. In the end, SEO should be the art of delivering your visitors exactly what they're looking for, not tricking them into visiting your shop and selling them a whole bunch of lies, as it still happens way too often. Well… SEMRush can't take care of your way of doing things, but it surely helps you see where you're standing!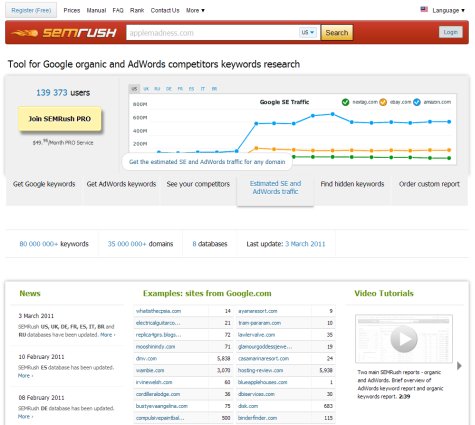 Available for a quick try without registering, freely registered users and even as a $49.95/monthly PRO service,
SEMRush
has one major goal – to help you view the top keywords that your website ranks for organically, providing information such as keyword, traffic percentage, position in search results and more. More than the above,
SEMRush
can also show you what URLs from your site rank for specific keywords, so everything looks pretty solid…
… especially since you can use regional databases and Google versions for the domain or keyword report, the documentation is extremely well done and the paid plans can deliver up to 100,000 results per report and 10,000 reports per day, not to mention the ability to export those reports to CSV or XLS. What I really hate is that I was only able to check a single URL without creating an account, but even the free account sounds pretty good if you need some valuable information and you don't want to spend anything to get it.
I guess that's all for today, folks, but I have a question – if you're one of those having a free SEMRush account already, can you tell me more about the goodies it offers? All I can see is "10 results per report" and no export capabilities, but I really hope there's more than meets the eye… 😉