I just found a solution to one of my problems, and I am really happy about it! I really must have some beers later today to celebrate this, and since I see no reason in telling you all the story, the very short version is that I needed some kind of chat in a WordPress-based site (chat, guestbook, anything like that), and Shoutbox seems to be the best choice. To be honest, I can't say if this is the script that's going to fulfill all my needs or not, but I am sure there will be quite a few who will find it worthy of their attention…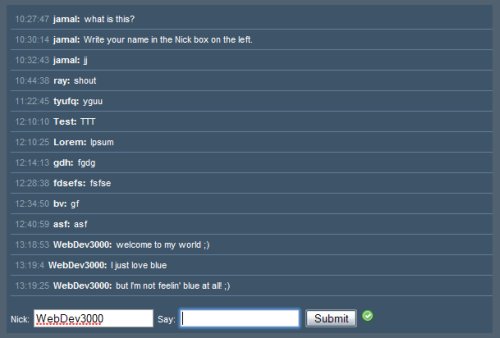 … so here's Shoutbox, a script based on the jQuery library and the Form plugin! The best part is that on the page above you can easily play with the code that handles your shoutbox settings, for example by changing the looks of the chat window (CSS-powered, of course!), but if you know how to do it, you can also modify the code to save chat messages in a database, since messages are currently saved in a text file.
If you just want to download the Shoutbox script and start working with it, just click here to get it, but I strongly suggest that you see the page with the demo I mentioned in the previous paragraph.
Well… that's all for today! Have a nice weekend and don't forget to drop your thanks (or curses, if you consider appropriate) below! 😉
Compatibility: any major browser that has JavaScript enabled (be careful with those script blockers, will you?)