Feelin' in the mood for some stripes? I know we just got through a dotted background generator, but I hope having some stripes as an alternative won't be boring. After all – at least when I speak about myself – stripes are more interesting than dots. While I enjoy wearing shirts with stripes, I can't imagine myself wearing dotted ones. Anyway, we're talking about graphics here, and not clothing, so let's take a look at my little treasure, shall we?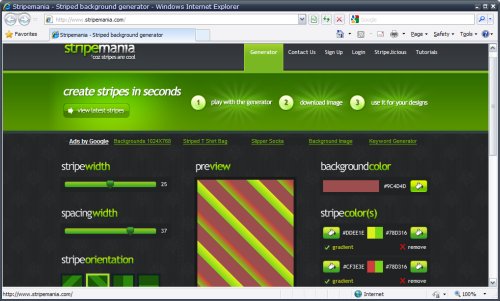 Stripemania is a quick stripes background creator, allowing you to quickly select stripe and spacing width, orientation, background and stripe colors, and also featuring some nice sharing features. Working with it is pretty straightforward, so let me give you just a quick hint…
… be sure not to miss Stripe.licious!!! Here, you can watch and save the latest stripes created by registered users of the website, as well as take them to the main page and edit the stripes to match your needs.
The result of your work can be saved as PNG or transparent background GIF file, and working with this tool is nothing less but pure fun. No matter if you need stripes for some project or not, my suggestion is to give Stripemania a chance. The weekend is only a few hours away, and if you hate games and wasting time in front of the computer, this little Web-based tool can provide you those 10 minutes of fun to get the weekend started properly! 😉
Compatiblity: Stripemania works great with every browser you can think of – Internet Explorer 7/8, Firefox, Flock, Opera, Safari, and even "strange creatures" like K-Meleon