Some of the best things in life are the easy ones. The best things in life are also the simple ones, like… generating simple tartan designs!?! I know, it may sound strange to you, but if I really have to wear something with more than just one color, then crisscross designs are my favorite, so let's take this story into the field of Web design, shall we?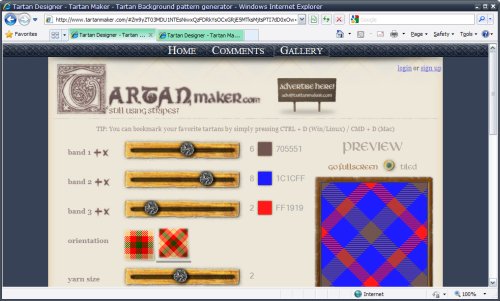 Tartan Maker is one of those free design tools that may seem to be not enough for a serious designer, but the truth is a bit different. Sure, you can easily fire up your Photoshop copy (Gimp and a bunch of other programs can also get the job done, of course) and come up with a nice tartan, but why not enjoy Tartan Maker and also share your work with the rest of the world? I repeat, this may not be something for the design guru, but it's surely a pretty useful and fun website!
At last, you should also take a look at the gallery and enjoy the social part of the site – you can sign up for a free account, share your tartans, see them being voted and climbing up the ladder leading to the Hall of Fame. 😉
Oh, yeah, there one more thing I should tell you – once you finish playing with your design, the texture can be downloaded as a PNG file with the tiny resolution of 36X36 pixels (at least that's what I got on my first try), but depending on the settings, it can get as high as 600X600 pixels.
Compatibility: I tried Tartan Maker with Opera, Firefox (3.5 already), Google Chrome, IE, Maxthon, and I only had problems in FF, because of my script blocker… so everything's just great