Never underestimate the power of Internet spam. Never! Anyway, I think you'll figure out that for yourselves once you visit the demo page of the "To Do" script (and some more than just that) I will tell you about today. Why such a topic? Well, it's first day of the week, and it's always good to plan ahead, and since I didn't manage to do what I had in mind this last weekend… here's one for you, as well as for me! 😉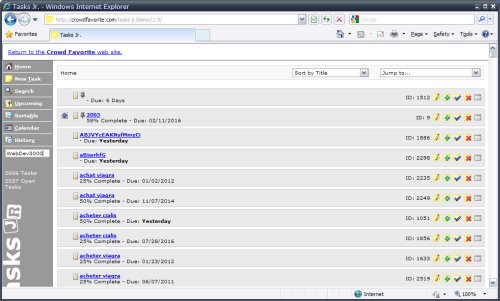 Tasks Jr.
is the little brother of a larger family, including Tasks and Tasks Pro (for differences, check
this page
). This lightweight web-based task manager helps you manage all your projects as you should, and not as I usually find myself doing it (doing it wrong, obviously).
The best part of it is that you're not tied to a certain device, since Tasks Jr. can be accessed via networked computers, PDA's, as well as Web-capable mobile phones. Now, let me explain about that spam part I mentioned earlier…
The demo page is interactive, giving you the chance to explore all the features you'll get once you deploy this free tool to your own server. Regarding this part… it's nice to have such interactive demos, but they should also have some spam protection, because it looks really funny (and not exactly professional) to see "Acheter Viagra" ("Purchase Viagra" in French) on the tasks page…
At last, you should know that Task Jr, requires a PHP-compatible Web server, the PHP engine in working condition, as well as access to a MySQL database. That's all, folks!
Compatibility: Internet Explorer, Firefox, Safari, Opera (according to the official page, some versions have problems with certain features of Tasks Jr.), Google Chrome, Maxthon, as well as others (you can't try it with 20-30 browsers at once… and I don't even use that many! ;))