Since the weekend is almost here and some time has passed since we talked about a texture generator or free texture resource I found, now is the right time to take a look at TextureZ, don't you think?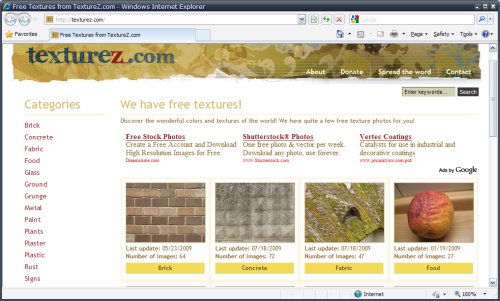 Sure, there's not much to say about a free textures site, right? I can't deny that, but those few words could make the difference between clicking that link above and discovering a great resource for your design needs and missing that chance. Here's what you should know about TextureZ…
All categories are available from the front page of the site, and we're talking about exactly 20 categories here, from Brick, Concrete and Fabric, all the way down to Water or Wood. When talking about textures, size DOES matter, and I was really happy to notice that most textures available here are about 3000X2000 pixels large, and nicely compressed, since the JPEG files are usually around 3-4MB in size.
Each image can be previewed and then downloaded as a ZIP file, and the only thing that I can see as bad about TextureZ is that you can't add desired files to some kind of download basket and get'em all with a click. Well, I guess you can't have everything for free, so you should work your way to downloading this entire site, after all – unless you're going to use some kind of download manager… 😉
Compatibility: any browser you may use, probably even text-based ones (none available here to try that, sorry…)