I love textures, especially when they come for free, or when I have some free tool at my disposal to generate them. Sometimes, I even got out and take some shots with pieces of concrete, grass, marble, and so on, then turn them into seamless textures with just a little bit of work. While I won't show you how to create seamless textures, I will help you by pointing out a new resource for those looking to download free textures from the Internet…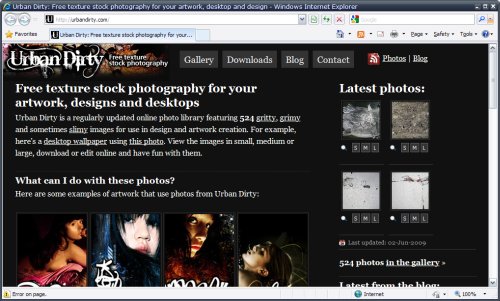 … and its name is Urban Dirty. The story behind it? Well, no big story, just a photo library that currently features 524 images for use in your design/artwork projects, and I think that some of them can easily be employed as website backgrounds, too, without having to bother making any modifications to them.
Each image is available in small, medium, and large sizes, with the large ones going above 2500X2000 pixels in most cases (3027 x 2304 pixels at 180 dpi maximum). Obviously, they come as JPEG files. That's all, folks!
Compatibility: Urban Dirty can be accessed using any browser you can think of, but I didn't have the chance to try it in some text-based ones (anyway, I can't imagine someone messing around in a terminal who needs textures to work with… in text mode!)