Writing on your own blog can be quite fun and, in the long term, can turn in a pretty good source of income, too – at least if you're doing it right and you also get a bit lucky… but as your number of readers increases, the nightmare starts! Unfortunately, I'm not talking about spam – that's only a minor issue. The real problem is that a lot of users also mean a lot of devices loading your blog – computers, mobile phones, tablets… so if you notice that a serious percent of your WordPress-based blog use mobile phones, having WordPress Mobile Pack at hand is as vital as having enough water with you in the desert!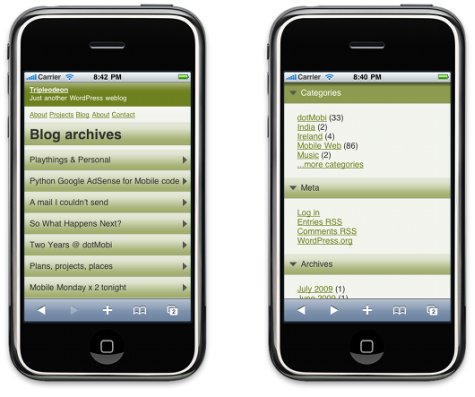 According to the official mumbo-jumbo,
WordPress Mobile Pack
"is a complete toolkit to help mobilize your WordPress site. It has a mobile switcher, themes, widgets, and mobile admin pane"
currently at version 1.2.4 and compatible with WordPress up to 3.0.5. After 101 user ratings,
WordPress Mobile Pack
has 4/5 stars and a total of 166,189 downloads, with 2,533 last week. Not bad at all, if you ask me…
… but in case you're still wondering about all the components of this pack, here's a quick roundup: a standard mobile theme, a mobile switcher, custom color variations, a set of advanced themes for Nokia and WebKit devices, device adaptation capabilities, a mobile admin panel, a mobile ad widget, mobile analytics, automatic listing on mpexo and a few extras that I'm sure you'll be delighted to discover.
At last… I guess I don't have to tell you that WordPress Mobile Pack is freely available, right? That's all for today, folks! 😉