This entire mobile Internet revolution we're going through seems to be moving faster than the programming/software worlds, but I am sure they're already catching up. After all, there has been enough patching up of old stuff so far, the time has come for new languages and technologies to jump forward into the spotlight and mobl, today's subject, is one of them.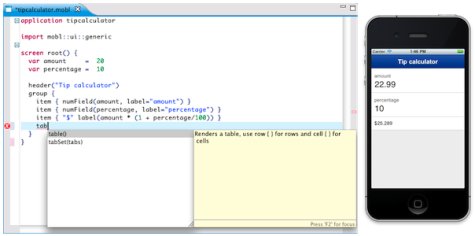 While most of the widely used programming languages and the dev tools needed to turn them into usable code don't come for free, it's great to know that
mobl
is more than just free – this one's an open source language and, in case the name doesn't say it all already, you should know that its purpose is to speed up the creation of mobile Web apps.
As you can see here, mobl has a JavaScript-like syntax that's pretty easy to learn and turns instant debugging of entire apps from dream to reality. In case you're wondering about the IDE coming with it, you should know that mobl doesn't come with such a thing, running as a plugin under the freely available Eclipse IDE. Excellent!
The idea behind mobl is pretty simple – its compiler converts the code into HTML5, CSS + JavaScript, delivering output that's compatible with Webkit-based browsers like the ones available on iOS and Android, WebOS, not to mention Safari or Chrome. Unfortunately, there's no support for Opera or Firefox for now… but everything seems great if we forget about that part, so why not take a closer look at the demos now? 😉