Need a hand? Hey, this week is just taking off, so I see nothing bad in asking for a bit of help, even if it comes shaped as a tooltip. This is not necessarily about software, since I've seen a lot of websites that really needed some tooltip-based assistance to make your life easier… so I am sure tooltipsy will find its way straight to the tools collection of many Web designers out there.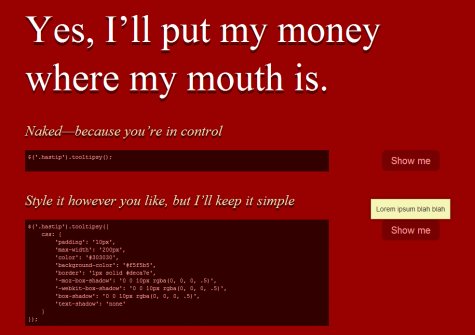 The story goes like this:
tooltipsy
is a jQuery plugin that comes under the terms of the GNU GPL version 2 and – at least according to
Brian Cray
, its creator – provides "extremely efficient tooltip functionality," while giving you complete control over all that's involved in this equation – CSS, position and animation. Before deciding anything, be sure to take a closer look at the samples – just
visit this page
and hover your mouse cursor above the "Show me" buttons. Well documented, completely free and highly customizable,
tooltipsy
requires jQuery and should work with all major browsers – at least as long as Javascript is enabled, of course! 😉
Other than the above, I guess I should also add a link to tooltipsy's GitHub page. Well, that's all of it for today. See you next time!