Remember PickyDomains and BustAName? No need to worry if you don't, I'll concentrate those stories in just a few words right now: it's all about finding the best domain name for your business – nothing less, nothing more. Well, last night I just bumped into another Web-based tool built to help us get this job done and, since I really like the way it works (the looks aren't bad at all, either), today it's my pleasure to introduce you to Panabee!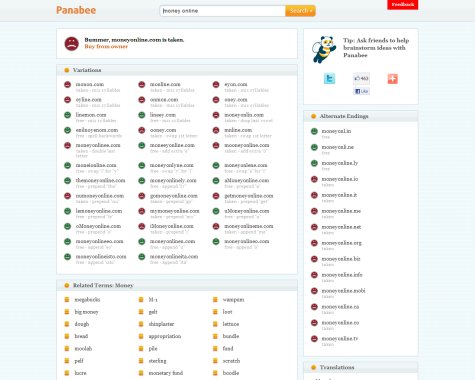 Panabee
has a really smart name and visual image, combining a panda and a bee. Why? No need to get into that now, you can find a lot of funny facts about the site and its services in the
"Umm, Panabee?"
section. How does it work? It's really simple – all you need to do is type in two words or a domain name (strange enough, it works with three words, too… but the idea is to get a domain name as short as possible, not stuff like freeappdownloadsforyourandroiddevice.com), press that Search button and, finally, wait for a few seconds for the magic to be unleashed – what you will get is much more than just some straight suggestions based on keywords you entered – you get variations, alternate endings, a list of related terms, translations, Twitter and Facebook posts related to your search, even Google results and Wikipedia related terms. Sweet!
To give you a good example of a great domain name I found using Panabee, I just have to say that "free software" seems like a really tough name to find, since freesoftware.com, freesoftwar.com or even stuff like freeesoftware.com are all taken, yet… freesoftwa.re is still ready for you! Feel free to consider this WebDev3000's gift to you today. I know only one will get it, but all I can hope is that he/she will put it to good use… and drop a message below to let us know that this domain name has been taken, of course. That's all, folks – enjoy Panabee and be nice enough to share some great finds with the rest of us, all right? Good luck! 😉