One of the easiest ways to communicate in these days is to post your thoughts through your blog. Chyrp was designed to be lightweight while retaining functionality. . Chyrp has a great standard theme and robust module engine. You can personalize and modify it any way you want.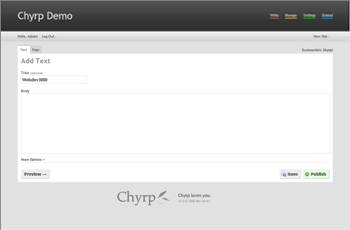 One of the best feature besides its simplicity is the Feathers system. This system allows Chyrp to do anything you want. You can just stick to the default Text feather (running a regular blog) but you can also post anything and everything.
Feathers add new post types to Chyrp. Post types determine what kind of media you can display in your blog. You can also add multiple extensions. Extensions add functionality (ex. audio clips, video, photos) to Chyrp. It can be a module, a feather, a theme, or a localization.
Chyrp is driven by PHP (PHP 5 >= 5.1.3) and MYSQL (MYSQL 4.1+) or SQLite (SQLite 3+). The installation is simple. Download the script, unzip it and upload it to your server. Create the MYSQL database with a username and password. The final step is to run the installer.
Chyrp is a powerful application and is perfect for tumblelogs. Unfortunately Chyrp does not have the capability of automatically posting content based on new items added to RSS feeds.