The Web would be really sad without stars, don't you agree? No, no, this has nothing to do with NASA, people like Lady Gaga, Shakira or other star-related things. This is all about creating an Ajaxed star-based rating system, so let's take a quick look at it, shall we?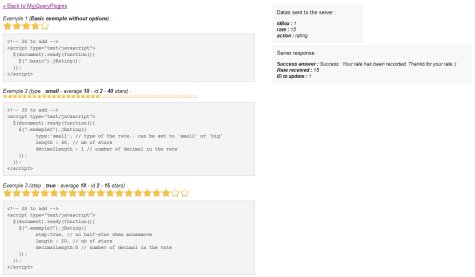 "It" has a name, of course. If you ask me, the name is the weakest part of it all, since I've seen countless plugins/scripts that involve Java and have a name starting with "j" the same way as it happens with the "i" and Apple products… The name is
jRating
and the official mumbo-jumbo goes like this:
"jRating is a complete jQuery plugin for star rating systems with complete Ajax treatment. jRating is very easy and simple to use, thanks to its many options and methods."
When talking about the features and settings available, I think it's enough to say you can choose the number of stars to use, their size, even replace the image files to use, while the ratings can represent decimals or not, as you see fit.
Fully compatible with any browser you can think of, as long as it has Java enabled, jRating can also be used with any scripting language you may have in mind, so don't worry about that PHP file included in the package already. For a quick demo, just go here. That's all, folks! 😉