While messing with Twitter itself on a regular basis is nothing but a huge waste of time (my personal opinion, of course, you're free to disagree with it), I have to admit that a lot of the messages sent by Twitter user may lead to useful information. Great, but how can one avoid using Twitter, yet gain access to the goodies that can be found with its help? Without too many doubts, I can say that the answer is not a single one, but Juitter can be one of the possible ones, so… let's get to it!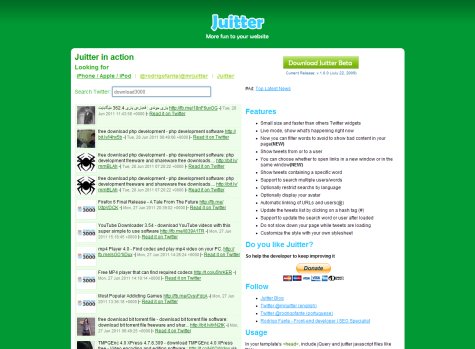 Completely free to download and use (donations are welcome, anyway),
Juitter
is a highly customizable, lightweight and fast jQuery plugin that allows you to easily put live Twitter content on your site. According to its official page I just mentioned,
Juitter
is smaller and faster than other Twitter widgets, offers content filtering, allows you to show tweets from/to a user or containing a certain word, multiple user/word search is also possible, results can even be filtered based on language and, in case you were wondering, you can add your own stylesheet to make it look exactly as you wish. Not bad at all, right?
Developed by Rodrigo Fante, the Juitter jQuery plugin works with all major browsers on any platform, as long as Java is running as it should. Oh, yeah – if you want to know about its licensing model, keep in mind that Juitter comes covered by the terms of the MIT license. That's all, folks! 😉
… but, in case you didn't figure that out yet, the official site of this piece of code is also its demo, since it uses it to display those live Twitter results. Bingo!